Does Stretching Help With Running?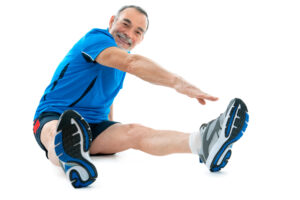 Before we start this article, some of this is not going to make sense when you look at the rest of our content.  As osteopaths we regularly prescribe stretches to people who are in pain, we have lots of articles and resources recommending stretches for various conditions and symptoms, and we stretch regularly because it feels great!
That said, stretching isn't all it is cracked up to be, and if you stretch to help with your running then you might be better off replacing it with other activities.  If you are a runner and want to know why, when, or even if you should stretch, then read on.
Should I stretch before a run? 
Have you seen people on the start line at running events diligently stretching their calves and hamstrings? It's fairly common to see people do this as part of a warm-up with the thought that it will help their performance and avoid injury, and on the surface it makes sense,  stretching = longer muscle = muscle less likely to get tight and sore during the race or tear.  The awkward thing about that is that it is simply not true.
A static stretch is generally thought of as 'lengthening a muscle to the point at which a gentle tension is felt and remaining in this position, typically for a minimum of 30 seconds per stretch' (1).  Several studies have shown that doing this before running makes no difference to running performance, or to how likely a runner is to get injured (2, 3), so doing them before you run is basically a waste of your time (although you still might to do them as it makes things feel nice!).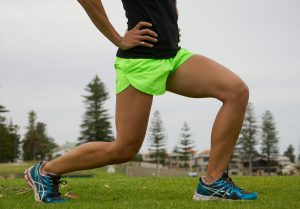 How should I warm up then?
A more effective warm-up for running should be a more 'dynamic' one where you slowly increase the amount and intensity of movement for 5-10 minutes.  This would mean;
A warm-up like this has been proven to improve running performance, but not to reduce the chance of injury (4).
What about after I run, or days when I'm not running?
Well, no, that won't really help either, the same studies referenced above have also shown that stretching after you run or as a preventative strategy between runs won't have any impact on how you perform while running or help reduce the incidence of injuries (2, 3).  However, stretching after a run will not have any detrimental effect on performance so if you feel better for doing it then go ahead!   Unfortunately, if you have the dreaded DOMS (delayed onset muscle soreness) from running too far then stretching won't help get rid of I faster either (2).

Will stretching help if I am already injured?
This all depends on the injury.  Some injuries, such as 'shin splints' ITB friction syndrome, and patellofemoral pain, are best rehabilitated using a mix of stretches and graded strength work (5).  As each runner is unique, and the factors that led them to the injury as varied it is not as simple as 'stretching the sore bit' so it is always better to get a full assessment and diagnosis of your injury from a professional.
Is there a better alternative to stretching to help improve my running and stop getting injured?
Yes, in fact, there are three things you should be focusing on;
An effective, specific, and realistic training programme. This means following a structured programme that will take you step by step towards your specified goal.   Different goals require different training, for example, there is no point in following a training plan for a flat road marathon if you want to run a trail-based half marathon.  Training with specificity in mind will always increase the performance related to your goal.  Also, training errors such as increasing frequency/intensity/duration of running in relation to your experience level and previous injury history have been shown to be responsible for the majority of running injuries (8).   Simply put, don't over-extend yourself too early, this is especially important if you are new to running as this is the most likely time to pick up an injury (9).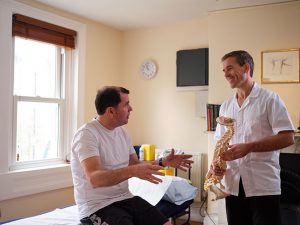 Start doing a running-specific strength workout 2/3 times a week. Running will place a large load on your muscles and joints, this means that endurance runners are at an increased risk of overuse injuries.  There is a large body of research that shows that runners can improve their performance, and reduce injuries by 50% by regularly engaging in a running-specific strength programme (6, 7).  Here is a guide how to test and improve your running strength.
Don't get injured, but if you do get the help of a professional. Unfortunately, most runners have experienced an injury at some point. Having an injury is the most common indicator that you will develop another/similar injury related to running in the next twelve months (10). You can prevent this from happening by following the advice in the first two points, but if you do get injured then consult a running injury expert to get to the bottom of why the injury occurred and how you can stop it from recurring in the future.
In our clinic in central Bath, we have helped scores of runners either get over chronic injury or improve their performance.  We use strength, endurance, and core stability testing, as well as analysis of training schedules and running styles, to help runners of all abilities to achieve their goals pain and injury-free.  We can provide individualised treatment plans and exercise programs to suit all needs. 
Is an injury stopping you from running, or has pain stopped you from achieving your running goals?  If so why not book a running injury consultation with our running expert osteopath Jay Ruddock.
References – 
1 – Woods K, Bishop P, Jones E. Warm-Up and stretching in the prevention of muscular injury. Sports Med 2007;37:1089–99.
2 – Baxter C, Mc Naughton LR, Sparks A, et al. Impact of stretching on the performance and injury risk of longdistance runners. Res Sports Med 2017;25:78–90.
3 – Yeung SS, Yeung EW, Gillespie LD, et al. Interventions for preventing lower limb soft-tissue running injuries. Cochrane Database Syst Rev 2011;56.
4 – Alexander JLN, Barton CJ, Willy RW. Infographic running myth: static stretching reduces injury risk in runners. British Journal of Sports Medicine 2020;54:1058-1059.
5 – Hobrough, P. Running Free of Injuries. From Pain, to Personal Best. Bloomsbury, 2016.
6 – Lauersen JB, Bertelsen DM, Andersen LB. The effectiveness of exercise interventions to prevent sports injuries: a systematic review and meta-analysis of randomised controlled trials.  British Journal of Sports Medicine 2014;48:871-877.
7 – Blagrove RC, Howatson G, Hayes PR. Effects of Strength Training on the Physiological Determinants of Middle- and Long-Distance Running Performance: A Systematic Review. Sports Med. 2018 May;48(5):1117-1149.
8 – Nielsen RO, Buist I, Sørensen H, Lind M, Rasmussen S. Training errors and running related injuries: a systematic review. Int J Sports Phys Ther. 2012 Feb;7(1):58-75.
9 – Yamamoto LM, Lopez RM, Klau JF, Casa DJ, Kraemer WJ, Maresh CM.  The effects of resistance training on endurance distance running performance among highly trained runners: a systematic review.  J Strength Cond Res, 2008, Nov;22(6):2036-44.