Why does my heel hurt in the morning?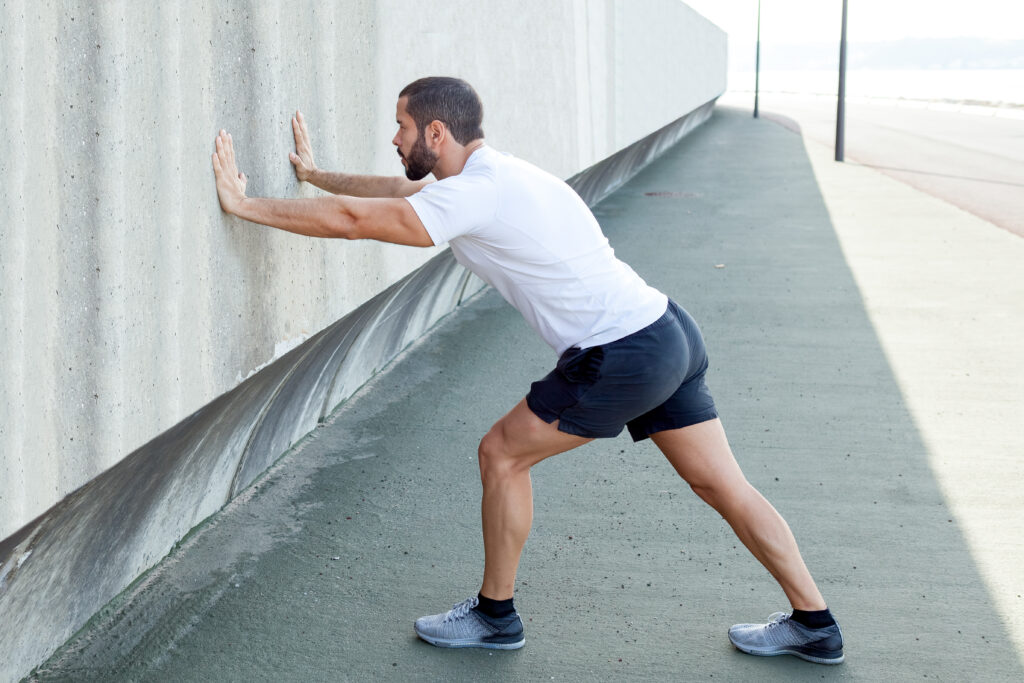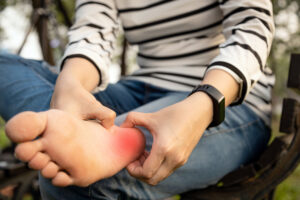 If you have pain in your heel when you wake up and first stand up, you may be suffering from plantar heel pain.  Our osteopathy clinic in Bath specializes in treating plantar heel pain and other types of foot pain.  We have previously written about treatments for plantar heel pain, so this article is intended as an addition to the previous posts.   The reason for this article is that commonly we see people who complain of heel pain who believe that they have plantar fasciitis, but recent research has introduced a new possible culprit for painful heels – the tibial nerve.
What is plantar heel pain?
Typically, plantar heel pain (PHP)is pain experienced on the sole of the foot at the heel, slightly to the instep side of the heel bone.  Typically, the pain is felt when a person stands on the foot after a period of non-weight bearing (such as first standing on it after getting up in the morning).  It is mostly experienced by either middle-aged people who are not very active or runners with very high training loads (1).  In the past, it was thought that people were more likely to suffer from plantar heel pain if they had biomechanical issues with the foot and leg or the presence of a bony growth on the heel known as a heel spur. These beliefs have been re-evaluated by more recent research that shows that the biomechanics of the affected leg may not be that important to the development of PHP, or that a heel spur is the cause (2).  What was found to be a consistent finding in people with PHP is the presence of thickening around the plantar fascia attachment at the heel (3).
How is plantar heel pain treated?
Several types of therapeutic interventions have been recommended over the years, however, not many of them (ultrasound, shockwave therapy, steroid injections, taping) have much of an evidence base according to recent research, the only interventions that show any benefit are stretching of the calves and possibly some strengthening of the calves (4).
What does the new research say about what causes plantar heel pain?
The major change to the research in PHP is that the structure that causes the heel pain may not be, as previously thought, either the plantar fascia (5) or the presence of a heel spur (6).  The culprit may in fact be the tibial nerve (in red) as it passes under the heel bone traveling into the foot, as at this spot, the nerve is quite close to the surface which may account for it being aggravated by weight-bearing. Recent studies have shown that the functioning of the tibial nerve is affected in 88% of people with PHP (7) and that when the nerve is stretched it causes pain in people who have PHP (8). The changes in the functioning of the nerve are thought to be from compression as it passes through the musculature of the calf resulting in pain in the nerve at the heel (7).  More recent research also finds that people who have PHP also have stiff and sore calf muscles in the leg with heel pain (9).  These findings would also explain why stretching and strengthening the calf muscles has a beneficial effect on PHP.
How does this change the treatments for plantar heel pain?
First of all, it changes how we would assess patients with PHP.  Given that the calf muscles are thought to be contributing to the pain the new method is to focus on how contraction of these muscles affect the pain at the heel. We measure this by getting the person to perform actions standing on the affected leg, standing only on the affected leg for 30 seconds, then bending the knee 10 times, then going up onto tiptoes 10 times to see if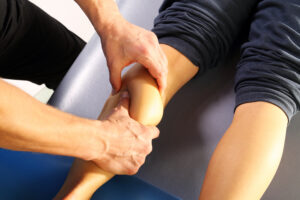 the PHP occurs.  These tests have been shown to be specific and reliable in the diagnosis of PHP (10).
With all this in mind, our focus now in treating people with PHP is now on treating the calf muscles using deep tissue massage and targeted and progressive stretching exercises to help reduce the compressive effect of the muscles on the tibial nerve as this approach has a much sounder basis in the evidence (11). This differs from previous approaches we have used where the focus of the treatments were more to do with treating and exercising the plantar fascia itself as this was considered to be the source of the pain.
Our osteopaths at Align Body Clinic in Bath have helped dozens of people get rid of their heel pain so they can enjoy life to the full again.
Do you want to know what is causing your pain and if we can help? Why not take advantage of our new patient assessment introductory offer to get you started towards a tailor-made recovery plan for only £19.
Are you in a lot of pain and want to get better as soon as possible?  If so then why not book in for a new patient consultation, with treatment on the day, for £65.
References
1 – Rasenberg N, Bierma-Zeinstra SM, Bindels PJ, van der Lei J, van Middelkoop M. Incidence, prevalence, and management of plantar heel pain: a retrospective cohort study in Dutch primary care. British Journal of General Practice. 2019 Nov 1;69(688):e801-8.
2 – Ribeiro AP, Trombini-Souza F, Tessutti VD, Lima FR, João SM, Sacco IC. The effects of plantar fasciitis and pain on plantar pressure distribution of recreational runners. Clinical Biomechanics. 2011 Feb 1;26(2):194-9.
3 – Wall JR, Harkness MA, Crawford A. Ultrasound diagnosis of plantar fasciitis. Foot & ankle. 1993 Oct;14(8):465-70.
4 – Babatunde OO, Legha A, Littlewood C, Chesterton LS, Thomas MJ, Menz HB, van der Windt D, Roddy E. Comparative effectiveness of treatment options for plantar heel pain: a systematic review with network meta-analysis. British journal of sports medicine. 2019 Feb 1;53(3):182-94.
5 – Coppieters MW, Alshami AM, Babri AS, Souvlis T, Kippers V, Hodges PW. Strain and excursion of the sciatic, tibial, and plantar nerves during a modified straight leg raising test. Journal of Orthopaedic Research. 2006 Sep;24(9):1883-9.
6 – Draghi F, Gitto S, Bortolotto C, Draghi AG, Belometti GO. Imaging of plantar fascia disorders: findings on plain radiography, ultrasound and magnetic resonance imaging. Insights into imaging. 2017 Feb;8(1):69-78.
7 – Rose JD, Malay DS, Sorrento DL. Neurosensory testing of the medial calcaneal and medial plantar nerves in patients with plantar heel pain. The Journal of foot and ankle surgery. 2003 Jul 1;42(4):173-7.
8 – Coppieters MW, Alshami AM, Babri AS, Souvlis T, Kippers V, Hodges PW. Strain and excursion of the sciatic, tibial, and plantar nerves during a modified straight leg raising test. Journal of Orthopaedic Research. 2006 Sep;24(9):1883-9.
9 – Saban B, Deutscher D, Ziv T. Deep massage to posterior calf muscles in combination with neural mobilization exercises as a treatment for heel pain: a pilot randomized clinical trial. Manual therapy. 2014 Apr 1;19(2):102-8.
10 – Saban B, Masharawi Y. Three single leg standing tests for clinical assessment of chronic plantar heel pain syndrome: static stance, half-squat and heel rise. Physiotherapy. 2017 Jun 1;103(2):237-44.
11 – Bernice Saban. Application of the New Protocol for Plantar Heel Pain. PhysioPlus Course. 2021