Serving yourself up a problem, is your tennis serve causing you pain?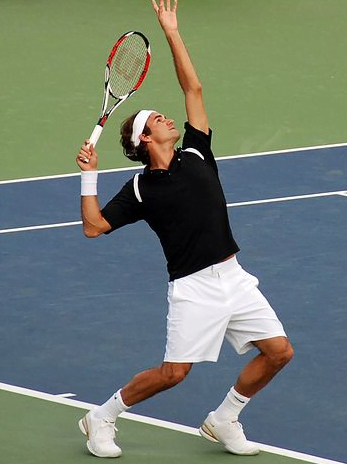 Tennis is a great summer sport, in Britain it is characterised for most of us by long summer days watching the rain fall and waiting for play to resume at Wimbledon.  Although, some of us do play tennis (an ever decreasing amount though), and those who do tend mainly to be aged over 45 with many continuing to play well past retirement age.  Given that the age group that play tennis tend to be middle age or older, and that it is a very demanding sport on the body it is no surprise that injuries are common.  Most people will immediately think that tennis elbow (lateral epicondylitis) is the one that will be most common but surprisingly most people who get tennis elbow don't play tennis (2). The most common injuries seen in tennis are leg and ankle injuries, with sprained ankles being high on the list alongside calf strains and Achilles tendon injuries (3).
Whereas these injuries are common in most high impact sports a more tennis specific complaint we hear in our clinic is people having shoulder problems when they try to overarm serve. This article attempts to explain why people might get pain when attempting tennis serve.
Biomechanics of the shoulder while serving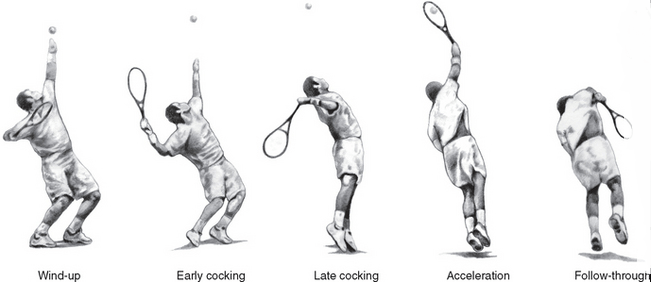 The shoulder is a very complex joint, this is by necessity as it needs to maintain a balance between stability for strength, and mobility for range of use.  When attempting a tennis serve, you need to generate a large amount of power with the arm in the overhead position, during which the shoulder must attempt to achieve a delicate balance between power and mobility. This demanding balance can, when executed repetitively, place the shoulder at risk of overuse or dysfunction (4).
The 5 stages of a tennis serve show that the shoulder is part of a larger movement pattern called a kinetic chain.  Effective performance of the whole kinetic chain will deliver a powerful and effective serve, however any breakdown in the chain will result in a loss of performance, in fact a breakdown in the early part of the sequence will result in a higher workload on the later parts leading to injury (4).
To produce an effective and safe serve three things must be present, an effective kinetic chain, normal scapular function, and strong/balanced dynamic stabilisers of the shoulder (4).
Effective kinetic chain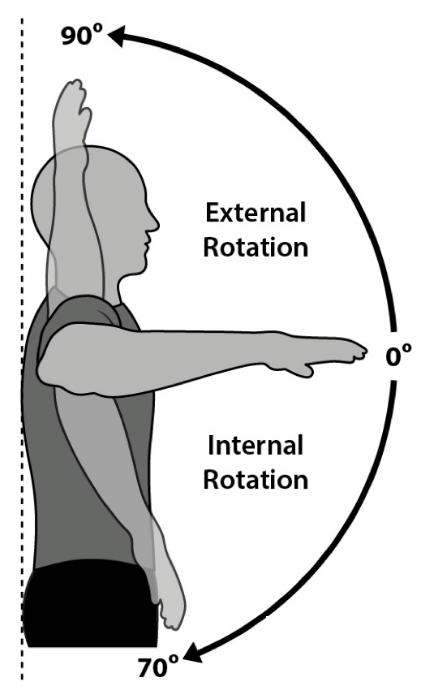 The early stages of the kinetic chain of a tennis serve require transfer of forces from the large powerful muscles of the legs and trunk (over half the total force of the serve is generated even before the shoulder becomes involved [5], this then powers a sequence of actions further down the kinetic chain into the shoulder, elbow and wrist.  To achieve the most speed and accuracy, the entire kinetic chain must operate without pause.  Elite tennis players are able to use their entire body to generate the force needed to serve at the level they need, strong legs, upper thigh, and core muscles all contribute to the early parts of the serving action.  Throughout the entire motion, if there is a loss of momentum, such as a lack of rotation in the mid back or shoulder then a lot of the energy generated is lost.  Therefore staying flexible across all joints and using a comprehensive strengthening regime (gym work, circuit training, core stability etc) will help your body produce an efficient movement that maximises the potential of the kinetic chain.  Reliance on shoulder power to generate force can often lead to muscle strains and impingement problems which can often be the reason people have to stop playing tennis (2).
Normal Scapular Motion
The scapula, and its supporting muscles, plays a vital role in overhead movements of the shoulder.  The joint at the top of the arm is a shallow ball and socket joint  which means it has a lot of mobility, which must be accurately controlled, the scapula acts as a stable base to ensure this via its precise movements and attaching muscles.  Effective control of the scapula via appropriate joint mobility and muscle coordination ensures that when the arm is placed above the head, the scapula, clavicle and upper arm bone (humerus) will be able to behave in such a way that the humerus does not come in contact with the lower part of the clavicle known as the acromium (5).  If this highly coordinated sequence does not happen then not only is there a risk of a shoulder impingement injury but the kinetic chain needed to produce the serve will be compromised reducing the speed and accuracy of the serve.
Strong and balance shoulder stabilisers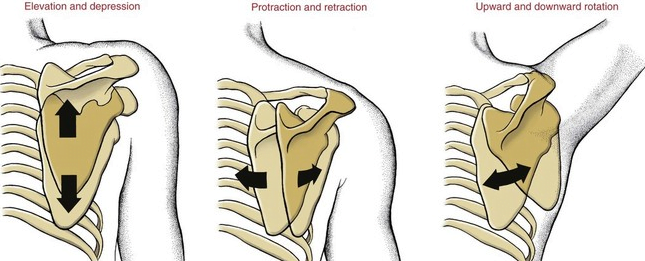 How the rotator cuff muscles perform plays a crucial part in protecting the shoulder joint during a tennis serve.  Like the scapula, the range of motion at the glenohumeral joint must be adequate, while the supporting muscles must be strong enough deal with the repetitive and explosive movements needed for serving.  If there is a loss of movement (specifically internal rotation) there is an increased risk of shoulder injury which will show up in the overhead position (5).  Attention to the balance of strength in the muscles of the rotator cuff is also vital to protect the shoulder.  75% of the modern tennis game is either serves, or forehand strokes, this requires a lot of power from the internal rotators of the shoulder, failure to preventatively balance the external rotators of the shoulder can lead to a loss of stability at the shoulder, again leading to a loss of performance and risk of injury (3).
What if I already have pain when I serve?
Well, that depends on how bad it is and how long you have had it.  If you have only had it for a few days, then give it some rest and see how it is the next time you play.  It may just be a transient problem by overplaying, or that you haven't played in a while and the shoulder is no longer used to the demanding action, in these cases the problem may resolve itself.
If you have had the problem for more than a few weeks, or it is there every time you play tennis, then you may need to get it assessed by an osteopath or other medical expert. Once you have an injury or pain when you serve you will develop changes to your serving action that may cause more problems in other areas so action is recommended sooner rather than later.
What is our experience as osteopaths?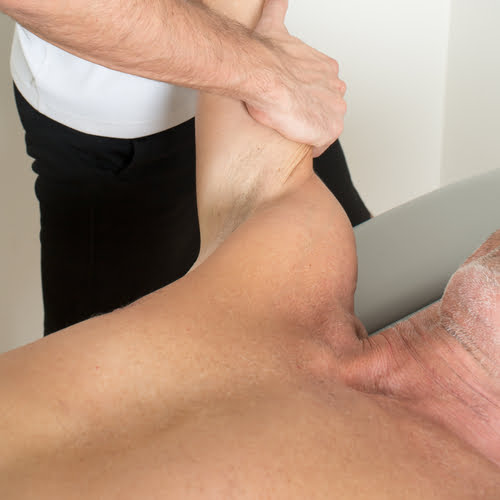 We routinely see patients who are struggling with shoulder pain, either from serving in tennis or throwing sports, our advice to these people is often the same;
Make sure you are addressing issues around technique.  Are you actually serving well?  Have you had advice or coaching to help?
If you have already had treatment for your shoulder pain did it address issues such as the ability to rotate through your hips, pelvis and spine?  If not then the problem may persist.
Are you properly conditioned to play tennis?  Make sure you are doing some preparation to safeguard against injury, specifically warm up well before playing and ensure the shoulder has good flexibility and enough stability to cope with the serving action.
Are you overplaying? Tennis is a very demanding sport so ensure you get rest well between playing, especially early in the season when you may be not quite as fit as you would be later in the summer.
If you are struggling with finding good advice or need help with shoulder pain when playing tennis we can help by;
Conducting a full assessment of how your body moves during your tennis serve.
Providing an accurate diagnosis of your pain/problem.
Identifying areas/joints that  are underperforming during your serve and improving their function
Working out if you have areas of weakness that are contributing to a loss of performance and prescribing exercises to improve your game.
Do you want to know what is causing your pain and if we can help?  Why not take advantage of our new patient assessment introductory offer to get you started towards a tailor made recovery plan for only £19.
Are you in a lot of pain and want to get better as soon as possible?  If so then why not book in for a new patient consultation, with treatment on the day, for £72.
We are also there to help you from home. Take a look at our suite of tennis elbow exercise resources and advice sheets which you can easily download and use from home.
References
2 – Magee, D. Zachazewski, J. and Quillen, W., 2009. Pathology and Intervention in Musculoskeletal Rehabilitation, Missouri, Elselvier.
3 – Ellenbecker, T. et al (2009).  Common Injuries in Tennis Players: Exercises to Address Muscular Imbalances and Reduce Injury Risk.  Strength and Conditioning Journal, Vol 31, 4, pp5-58.
4 – Van der Hoeven, H., & Kibler, W. B. (2006). Shoulder injuries in tennis players. British Journal of Sports Medicine, 40(5), 435–440.
5 – Kibler W B. (1995).  Biomechanical analysis of the shoulder during tennis activities. Clin Sports Med pp1479–85.