How to Get Rid of Tension Headaches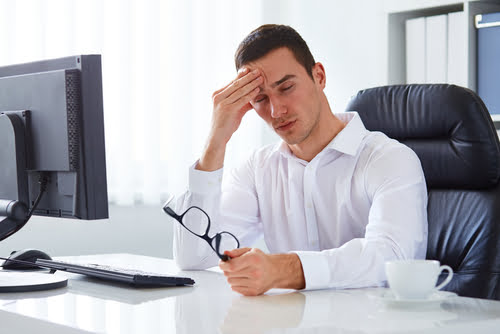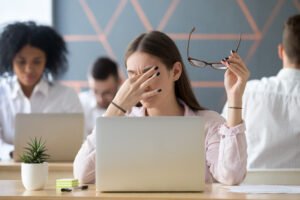 Tension headaches are commonly treated by a mix of medication, identifying and avoiding triggers for the headaches, stretching and exercising the neck and shoulders, and lifestyle advice.  The best course of action will depend on the type of tension headache you have and what the triggers are for the headaches.
Tension-type headaches are medically described as being 'mild generalised pain without the incapacity, nausea, or photophobia associated with migraine'.   They are usually described as being mild to moderate in intensity and located around the front and back of the head on both sides.  They can be episodic and infrequent (a common or garden headache), or, if they are present for more than fifteen days per month for over three months they are classified as chronic tension-type headaches (1).  Most people have experienced an episodic tension-type headache, 40% of us will have one at least once a year (2). If you experience the chronic pattern of tension headaches then it can affect different aspects of your life, such as work attendance and quality of life (3).
What Causes Tension Headaches?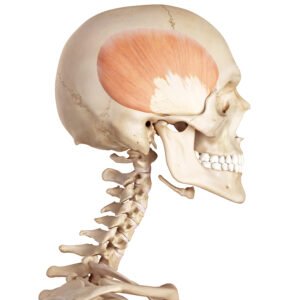 Tension headaches were thought to be caused by stress/psychological factors and tight muscles around the scalp and head, whereas these factors may contribute to the development of tension headaches it is changes in neurotransmitters that are thought to produce the painful effect (4).  Several neurotransmitters are thought to be involved in a process known as central sensitization where low levels of stimulus to the brain produce exaggerated responses such as higher pain signals in a larger area that are triggered by small events (5).  Tight muscles around the scalp (temporalis) may still be involved but it is unclear whether the tight muscles cause the change in neurotransmitters, or the other way round (6).
What Triggers a Tension-type Headache?
Several triggers have been identified as causing tension headaches, these include;
Stress
Depression
Anxiety
Holding your head in one position for a long time
Sleeping in an awkward position or in a cold room
Eyestrain
Drugs or alcohol
Over-exertion
Skipping meals
Head and neck injury, even years after the injury
Clenching your jaw or grinding your teeth (bruxism)
Medications, including some headache medications (leading to rebound headaches)
Arthritis
Hormonal changes (primarily among women) (6).
How are Tension Headaches Diagnosed?
Tension headaches are most commonly diagnosed by taking a full history of the problem, including triggers, and physical examination that may show tenderness around the muscles of the scalp and neck (1, 7).
How to Get Rid of Tension Headaches
Episodic tension headaches are most commonly treated with over the counter painkillers, drinking water, and addressing stress in the moment may also help (8, 9).
To get rid of chronic tension headaches there are several things that may help, these include medication, specific exercises for the neck, manual therapy to the neck joints and muscles, lifestyle advice, and postural correction.  Often a combination of these interventions is needed and the more relevant ones may be obvious from the triggers that cause the headaches.
Targeted Exercise
Specific stretching exercises that target the muscles of the head, neck, and shoulders can be of benefit to people who suffer from tension headaches, although usually the most benefit will be if the headache is accompanied by neck pain (10).
Medication
Some medications that affect neurotransmitters (anti-depressants and muscle relaxants) and reduce the central sensitization effect are also effective, as long as they are not used in conjunction with over the counter painkillers (4).
Lifestyle Advice
This can include advice on limiting screen time and correcting workstation ergonomics, being aware of triggers, and ensuring that dehydration is not a causative factor.  Other factors such as reducing smoking may also help (11).  People who have headaches that are generated by jaw clenching may be able to get help from their dentist.
Manual Therapy
Massage techniques and passive stretching of the muscles and joints around the head, neck, and shoulders may help reduce tension headaches (12, 13), and the relief from headaches is a common reason to visit an osteopath (14).
How Can We Help?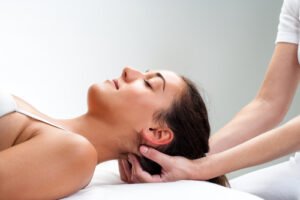 At Align Body Clinic, our experience is that the best way to help people who suffer from chronic tension headaches is to take a thorough history of the person's problem that will explore possible triggers for the headaches and other lifestyle factors, such as computer usage and exercise habits.  We then perform a thorough assessment of the head, neck, shoulders and other areas that may be involved to determine what is causing the pain.  Once we have explained the problem to the person we will suggest a course of action that may include;
Manual therapy such as joint mobilisation, massage, or medical acupuncture.
Prescriptive exercises for the person to do at home.
Advice on lifestyle modification
Targeted advice on workstation set up
Referral to another practitioner if our assessment reveals that we cannot help.
Do you want to know what is causing your pain and if we can help?  Why not take advantage of our new patient assessment introductory offer to get you started towards a tailor made recovery plan for only £19.
Are you in a lot of pain and want to get better as soon as possible?  If so then why not book in for a new patient consultation, with treatment on the day, for £65.
References
1 – Silberstein, S. (2018).  Tension-Type Headache.  MSD Manual (Professional Edition).
2 – Schwartz, B.S. (1998). Epidemiology of Tension-Type Headache. Jama; 279(5):381. doi:10.1001/jama.279.5.381.
3 – Crystal, S.C, Robbins, M.S. (2010).  Epidemiology of tension-type headache. Curr Pain Headache Rep;14:449
4 – Jay, G.W, Barkin, R.L (2017). Primary Headache Disorders- Part 2: Tension-type headache and medication overuse headache. Disease-A-Month. 63 (12): 342–367
5 – Woolf, C.J, Latremolier,e A. (2009). Central Sensitization: A generator of pain hypersensitivity by central neural plasticity. The Journal of Pain; 10(9):895-926
6 – Tension headache. University of Maryland Medical Center. University of Maryland Medical Center. http://umm.edu/health/medical/altmed/condition/tension-headache. Accessed Nov 2020.
7 –  Smith, Jonathan (2019). Ferri's Clinical Advisor. Philadelphia: Elsevier. p. 1348.
8 –  Derry S, Wiffen PJ, Moore RA, Bendtsen L (2015). Ibuprofen for acute treatment of episodic tension-type headache in adults. The Cochrane Database of Systematic Reviews. 7 (7): CD011474.
9 – Consumer Reports (2016). "Tension Headache Treatment and Prevention". Consumer Reports.
10 – Varatharajan, Sharanya; Ferguson, Brad; Chrobak, Karen; Shergill, Yaadwinder; Côté, Pierre; Wong, Jessica J.; Yu, Hainan; Shearer, Heather M.; Southerst, Danielle; Sutton, Deborah; Randhawa, Kristi (2016). "Are non-invasive interventions effective for the management of headaches associated with neck pain? An update of the Bone and Joint Decade Task Force on Neck Pain and Its Associated Disorders by the Ontario Protocol for Traffic Injury Management (OPTIMa) Collaboration". European Spine Journal. 25 (7): 1971–1999
11 – Ditre, J. W., Brandon, T. H., Zale, E. L., & Meagher, M. M. (2011). Pain, nicotine, and smoking: research findings and mechanistic considerations. Psychological bulletin, 137(6), 1065–1093.
12 – Ernst E, Canter PH (2006). A systematic review of systematic reviews of spinal manipulation. Journal of the Royal Society of Medicine. 99 (4): 192–6.
13 – Chaibi A, Russell MB (2012). Manual therapies for cervicogenic headache: a systematic review. The Journal of Headache and Pain. 13 (5): 351–9
14 – National Council for Osteopathic Research, 2010.  The Standardised Data Collection Project. [online], available at, http://www.osteopathy.org.uk/resources/research/.