How do I stop my Achilles hurting when I run?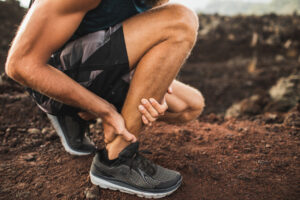 Our osteopaths in our central Bath clinic see a lot of Achilles injuries in runners.  Achilles pain is one of the most common problems for a runner to get, 43% of track runners have reported having issues with their Achilles tendon, and 66% report that Achilles pain has an impact on their performance (1).  However, an Achilles problem is not purely an athletic injury as 65% of all Achilles pains are not sports-related (2).
The loads placed on the Achilles tendon during running are high resulting in lower limb injuries being the most common that runners experience. An average runner during a 10km run will take about 12,000 steps, and because running necessitates landing and absorbing forces on a single leg at a time each step will expose your legs to a load of 2.5 times your body weight, this means that a runner who weighs 60 kg will have to absorb a force of 150kg 6000 times per leg over the 10km (3).
Given the high loads, Achilles pain tends to be due to overuse.  Like all tissues in the body, the Achilles will remodel itself based on its exposure to load (1).  In a broad sense this is how you get fitter and stronger, you expose your body to a load (running in our case) then after the activity the body responds by developing the tissues that were used to perform the loading task so the next time you perform the task again you can cope with it better.  Problems in the Achilles tendon develop when there is too much load with too little recovery time, 60% – 80% of running athletes who develop Achilles problems report a sudden change in training intensity (speed work, running hills) or duration (4).  There are other risk factors that may also make you more likely to develop Achilles pain, such as restricted joints in the ankle, tight calves, or having a higher body mass index (5).  The changes that happen in the tendon to produce the pain are known as a 'tendinopathy' (tendinitis).
What Happens to a Tendon to Produce a Tendinopathy?
As mentioned above the problem exists due to the tendon failing to adapt to load, the new stronger fibres that the body would usually produce to strengthen the tendon are, in the case of tendinopathy, disorganized, weak, and less elastic, they also have a higher concentration of pain nerves.  These changes mean the tendon is less strong, stiffer, and is painful (6).
What are the symptoms of Achilles Tendinopathy?
Given the changes that happen to the tendon, it is unsurprising that a runner may notice stiffness and pain in the Achilles tendon.  Commonly an early sign is a stiffness at the start of a run that reduces quite quickly, other symptoms include stiffness when taking the first few steps out of bed or after prolonged sitting.  The amount of pain is an indication of the severity and if it is left to progress most runners will notice that they are getting slower and can run for less time (7).
How Would I know if I have an Achilles Tendinopathy?
The easiest way to find out if the pain you are getting is Achilles pain is to pinch the tendon with your fingers to see of it is tender, you can pinch it from its insertion into the heel bone, then up to 6cm above that to accurately assess the location of the problem.  As well as pain there may be a small bump around the site of the pain where the tissues have become affected (8).  You would also have some of the symptoms listed above.
What Should I Do if I Think I Have Achilles Pain?
Early intervention is recommended, people who have mild Achilles stiffness that is not yet affecting their performance can often nip the problem in the bud by adjusting running loads/rest periods and beginning a rehabilitation program (1).
To get an accurate assessment of your Achilles pain you should seek professional help from an osteopath or physiotherapist, they will be able to accurately diagnose not only the symptoms but also why they have occurred.  As well as noting the history of your symptoms they will perform tests to see if the affected leg shows any strength deficits, loss of flexibility or joint restrictions that may be influencing how the Achilles perform (1).  Noting a difference between legs in strength and endurance tests at this stage is crucial for comparison purposes when deciding when a person should return to running.
What treatments work best for Achilles tendinopathy?
The best treatment for Achilles tendinopathy is exercise rehabilitation (9).  The main objective is to expose the tendon to loads that will help remodel and strengthen its fibres in a controlled and progressive fashion, while not exacerbating the exiting problem (10).  To effectively do this there should be four stages;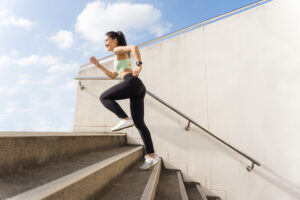 1 – Symptom Management (load control) – In this phase, the main objective is to reduce the load on the tendon.  Often people think this means stopping running, but that can often be detrimental to the process. What is most important is to stop moderate to severe pain (worse than a 5/10) during or after activity, and to ensure that the pain is no longer increasing.  This can be done by asking people to limit the length of their runs, stopping running hills, or simply having more rest days) (10). If you have reduced your running and the pain continues it may be necessary to stop completely.  During this phase, your osteopath will need to address flexibility issues in the ankle joint and calf muscles, and you will begin to do some calf strengthening exercises that are within tolerable pain limits.
2 – Recovery – In this phase, the focus is on significantly developing strength in the calf muscles and the tendon, exercises may progress from double leg to single leg calf raises, and be performed on different surfaces at different speeds in order to challenge the tendon to remodel.  In this phase, it can also be helpful to look further afield and address through exercise any weaknesses or issues in the hip or thigh that may have contributed to the Achilles pain (10).
3 – Rebuilding – The main focus here is beginning the transition back into more explosive exercise that would be more like running.  Exercises known as plyometrics (jumping, hopping, and bounding) are used to start the transition back to full activity.  It will also be necessary in this phase to begin to use even heavier loads to strengthen the calves and tendon, a weights vest or a dumbell can help with this.  If you have had to stop running altogether how you tolerate the higher impact exercises in this phase will help inform you if you are ready to return to running (10).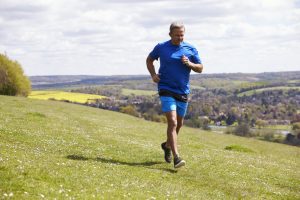 4 – Return to Running – In this phase, the person is making the transition back to a full running routine.  Not surprisingly pain severity and duration after activity in the Achilles is the main tool used to measure progress.  Setting goals in terms of running duration and speed, and emphasizing sufficient rest periods are key to a full and pain-free recovery.  In this phase it is also important to have the strength and endurance of the legs reassessed to ensure that any differences between the two legs have been removed, if this is not the case then it will be necessary to continue the calf and tendon strengthening program as the underlying weakness may still be present but not producing pain (10, 11).
Achilles tendinopathy can take up to a year to fully resolve, the most effective way for a runner to get rid of it quickly is to spot the early symptoms, modify their activity, and complete a well-designed rehabilitation program from a running injury expert.
In our clinic in central Bath, we have helped scores of runners either get over chronic injury or improve their performance.  We use strength, endurance, and core stability testing, as well as analysis of training schedules and running styles, to help runners of all abilities to achieve their goals pain and injury-free.  We can provide individualised treatment plans and exercise programs to suit all needs. 
Is an injury stopping you from running, or has pain stopped you from achieving your running goals?  If so why not book a running injury consultation with our running expert osteopath Jay Ruddock.
References
1 – Silbernagel KG, Hanlon S, Sprague A. Current Clinical Concepts: Conservative Management of Achilles Tendinopathy. J Athl Train. 2020;55(5):438-447. doi:10.4085/1062-6050-356-19.
2 – de Jonge S, van den Berg C, de Vos RJ, et al. Incidence of midportion Achilles tendinopathy in the general population. Br J Sports Med. 2011;45(13):1026–1028
3 – Blagrove R (2015).  Strength and Conditioning for Endurance Running.  Crowood Pres, Wilts.
4 – Leadbetter WB. Cell-matrix response in tendon injury. Clin Sports Med. 1992;11(3):533–578
5 – Martin RL, Chimenti R, Cuddeford T, et al. Achilles pain, stiffness, and muscle power deficits: midportion achilles tendinopathy revision 2018. J Orthop Sports Phys Ther. 2018;48(5):A1–A38.
6 – Scott A, Backman L J, Speed C, J Orthop Sports Phys Ther. 2015 Nov; 45(11):833-41
7 – Janssen I, van der Worp H, Hensing S, Zwerver J. Investigating Achilles and patellar tendinopathy prevalence in elite athletics. Res Sports Med. 2018;26(1):1–12.
8 – Hutchison AM, Evans R, Bodger O, et al. What is the best clinical test for Achilles tendinopathy?
9 – Martin RL, Chimenti R, Cuddeford T, et al. Achilles pain, stiffness, and muscle power deficits: midportion achilles tendinopathy revision 2018. J Orthop Sports Phys Ther. 2018;48(5):A1–A38
10 – Silbernagel KG, Crossley KM. A proposed return-to-sport program for patients with midportion Achilles tendinopathy: rationale and implementation. J Orthop Sports Phys Ther. 2015;45(11):876–886.
11 – Gajhede-Knudsen, M., Ekstrand, J., Magnusson, H., & Maffulli, N. (2013). Recurrence of Achilles tendon injuries in elite male football players is more common after early return to play: an 11-year follow-up of the UEFA Champions League injury study. British journal of sports medicine, 47(12), 763–768. https://doi.org/10.1136/bjsports-2013-092271