What is Knee Osteoarthritis? Knee Pain Symptoms and Treatment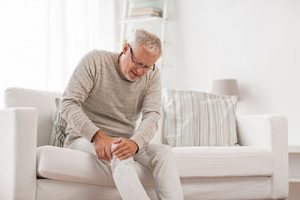 Osteoarthritis (or OA) is a 'wear and repair' condition of joints. Our joints are always going through a process of wear, and repair, and sometimes this process causes changes to the shape and function of a joint. We would expect most people's joints to change as we go through life, these are normal changes and should be thought of like getting grey hairs, or wrinkles on our skin. Sometimes, this process can go awry, leading to greater than average joint changes, which may result in pain and stiffness. This is OA. However, it is important to note that knee OA does not only affect the cartilage and bones. It is a whole joint condition, affecting soft tissues too, such as muscles and ligaments, and also a whole person condition, affected by lifestyle, mood, and other factors specific to you. This is an important definition because whilst we cannot change the bone structure or cartilage loss, we have lots of good options for reducing pain and improving the soft tissue health of the knee, which can result in significant improvements.
Who gets it and why?
This is not fully understood. Knee OA is more common in women over 50. Our genes can also increase the likelihood of developing the condition, as can previous injury to the knee joint, especially broken bones. There is some evidence of a link between being overweight and knee OA, and some occupations are thought to increase the risk too, such as those which involve heavy physical work and repetitive bending and kneeling, for example, carpet layers and agricultural workers.
How do I know if I have knee osteoarthritis?
Often an x-ray is not needed to diagnose knee OA. This is because the symptoms (what you feel), and signs (what we can observe), are often sufficient for your medical professional to make a diagnosis. Also, there is a poor correlation between what we see on x-rays and pain, for example, one person can have a lot of pain but minimal changes on x-ray and another person can have significant joint changes on x-ray but little or no pain. This tells us that there are many factors involved in this condition.
What are the symptoms of knee osteoarthritis?
Pain, particularly associated with walking, and you may find you cannot walk as far as you used to. Stairs can also be troublesome.
Stiffness, which is typically worse in the mornings and after periods of rest. It usually eases quite quickly once you are up and moving, although your knee may feel generally less flexible.
Swelling, this can be firm bony swelling or soft squidgy swelling, or a mixture of both.
What can I do about it?
Exercise is a core treatment for knee OA irrespective of age, pain, or disability levels and is crucial to maintaining function and reducing pain. The activity should include strengthening exercises (see here for our free exercise sheet) and aerobic exercise. Aerobic exercise is anything that raises your heart rate and breathing rate, such as brisk walking, cycling, swimming, classes, or online routines.
Pain relief: Paracetamol, in combination with an anti-inflammatory gel, is usually the first-line treatment. If this is not sufficient, speak to your GP and they will discuss other options with you, which might include anti-inflammatory tablets or capsaicin cream.
Hands-on treatment, such as osteopathy, is supported by the NICE guidelines in the management of knee OA, in combination with exercise.
Use heat packs, ice packs, or a TENS machine.
A healthy diet is recommended, and weight loss if you are overweight.
Make sure you get enough sleep. If you struggle with this, there are lots of helpful online sleep hygiene resources which may help.
If the pain is severe then you can use walking aids, such as sticks or poles, it is important that mobility is retained, even if the movement is difficult.
Take glucosamine and chondroitin supplements. These are not available on the NHS and remain controversial due to lack of evidence of effectiveness, however, some people report benefit.
Corticosteroid injections into the joint may be offered.
Knee replacement surgery if conservative treatments fail.
Will I need a new knee?
It is normal to get ups and downs and flare-ups if you have knee OA. However, it may be reassuring to know that it does not always deteriorate, and most people with knee OA don't need new joints.
How can Align Body Clinic help?
As highly trained experts in the musculoskeletal system, our expert osteopaths can provide you with a thorough assessment and diagnosis, as well as information about the condition, and advice on what to do to help, while considering your individual function and needs.  Our hands on treatments, such as massage, stretching and gentle movements of your joints, can help ease pain and improve function, and we will also provide individualised home exercise plans, and support with achieving physical activity, and balancing exercise with rest.  In addition, we can guide you to other resources, for example, support with weight loss, sleep, or stress, or refer you to your GP if conservative treatment fails.
Do you want to know what is causing your pain and if we can help? Why not take advantage of our new patient assessment introductory offer to get you started towards a tailor-made recovery plan for only £19.
Are you in a lot of pain and want to get better as soon as possible?  If so then why not book in for a new patient consultation, with treatment on the day, for £65.
If you have knee pain and any of the following symptoms, please speak to your GP as soon as possible:
Constant, unremitting pain.
Pain at night which significantly disturbs sleep.
A hot red knee.
Feeling unwell.
Pain in multiple joints, with stiffness lasting longer than 1 hour in the mornings.
References:
NHS. (2019). Overview: Osteoarthritis. (Online). Available at: https://www.nhs.uk/conditions/osteoarthritis/. (Accessed 13th March 2021).
Versus Arthritis. Osteoarthritis (OA) of the knee. (Online). Available at: https://www.versusarthritis.org/about-arthritis/conditions/osteoarthritis-of-the-knee/. (Accessed 13th March 2021).
Jigsaw-E. Joint Pain in Physiotherapy. (Online). Available at: https://jigsaw-e.com/courses/joint-pain-in-physiotherapy/. (Accessed 14th January 2021).
NICE. (Updated 2020). Osteoarthritis: care and management. (Online). Available at: https://www.nice.org.uk/guidance/cg177/resources/osteoarthritis-care-and-management-pdf-35109757272517#page14. (Accessed 12th March 2021).
Red Whale, in Association with Versus Arthritis. Osteoarthritis. (Pdf).