Why does my shoulder hurt when I lift my arm?
Why does my shoulder hurt when I lift up my arm? (common shoulder problems)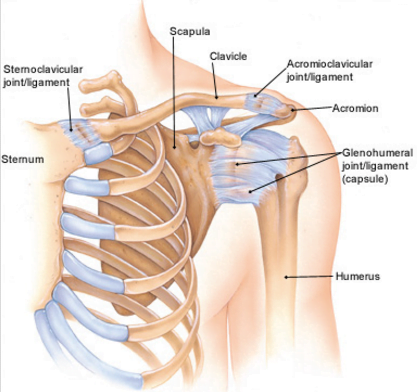 Pain in the shoulder is one of the most common reasons to visit an osteopath (4).  The shoulder is a complex set of structures that must work together to provide a lot of mobility and be strong and stable while performing its many actions.
The shoulder is made up of three bones, the humerus (upper arm), the scapula (shoulderblade) and the clavicle (collarbone), which between them have joints which allow movement.  The joints of the shoulder are able to move very freely in normal circumstances, the stability required for efficient movement comes from the many muscles that relate to the shoulder (1).  This means the shoulder complex can easily become unstable and dysfunctional, producing pain when moved.
If you overdo it in the gym or garden you may find the shoulder is generally sore to move for a few days, this is down to muscular fatigue.  However, if your shoulder is sore for weeks or months when you try to lift  the arm up to or above shoulder height (especially if you are lifting it out to the side) then you may have a dysfunctional shoulder, commonly known as 'shoulder impingement syndrome'.  The space beneath the acromio-clavicular (A/C) joint where some of the rotator cuff tendons travel through is known as the sub acromial space, when your arm is raised it can be as little as 5mm (1).  If this space is narrowed then the various tendons and other structures can come in contact with the underside of the A/C joint producing inflammation and pain (1).  Factors that produce a narrowing of the space are mainly biomechanical (2), they include;
Rotator Cuff Strain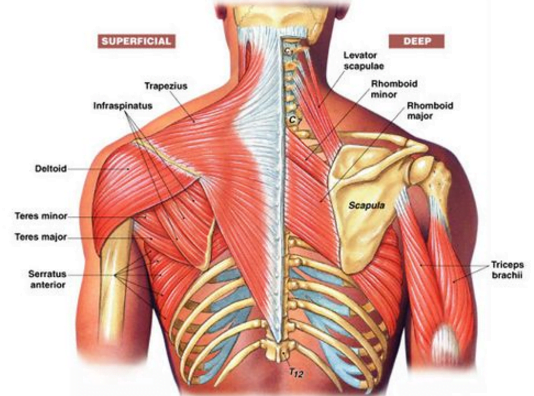 A tear in the small muscles that stabilise the shoulder resulting in a change in how the joint moves when the arm is raised.  This can be due to changes in how the joints in the upper back and neck are performing or tightness/weakness in the many muscles that ensure it moves appropriately when you lift your arm (3).  A strain in the rotator cuff muscles may be a gradual fatiguing strain that happens over time, or you may 'feel it go' as you lift something, resulting in pain in the top of the arm or the back of the shoulder.
An imbalance in how the humerus sits in the socket(the glenohumeral joint)
Changes in posture, or an imbalance in the musculature can result in the humerus moving forwards in the joint (1, 4).​  This can be the result of tightness and/or weakness in the various muscles that support the position of the shoulder joint complex, including the lower trapezius, serratus anterior and levator scapula (2).  Also, a lack of movement at the base of the neck has been shown to be a strong predictor of shoulder dysfunction (3).  Commonly people who have this issue may have had a rotator cuff injury in the past, or have a job that involves a repetitive task such as building work, driving or even working at a computer.
Bursas
Bursas are fluid-filled sacs that provide easy gliding movements, preventing friction, the presence of them in a joint indicates the potential for friction.  Altogether the shoulder joint has 6 bursae.  If they are exposed to excessive forces (mainly compression and shear forces) due to improper movement or excessive loading (doing too much for too long) then they can become inflamed and sore.
AC joint degeneration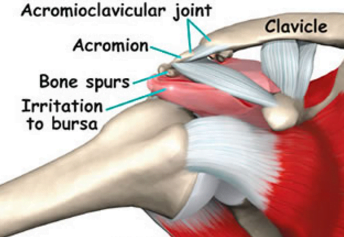 The acromio-clavicular joint (A/C joint) is located on the top of your shoulder and is formed by the clavicle and the scapula.  It has a small joint surface which must cope with a lot of load over a lifetime, this means it is vulnerable to trauma (such as falling onto your hand, or tackling in rugby) and can begin to become arthritic early in life.  Most people in their 60's will have some degree of arthritis in this joint (1). Through repeated actions such as weight lifting or manual labour the cartilage on the joint surface may wear out leading to the body replacing it with rough edged bone (a spur).  This rough edge can catch on surrounding tissues as they pass between the a/c joint and the humerus when the arm is raised, producing pain (2).
As well as an impingement problem, there are a couple of other common reasons why you may have pain in your shoulder;
Frozen shoulder (adhesive capsulitis)
Many people who have a shoulder problem can mistakenly think they have a debilitating chronic condition known as 'frozen shoulder'.  Frozen shoulder can appear very similar to an impingement problem when it first occurs as nearly always the first symptoms to appear are pain and stiffness around the shoulder, however it's clinical course is very different (2).  As frozen shoulder begins to progress the pain reduces and the joint becomes very stiff and severley limited in most movements,especially lifting the arm out to the side and turning the shoulder outwards.  Rarely would impingement syndrome be this severe.  Eventually a frozen shoulder does begin to recede and improve, 60% of people have full resolution within two years, however results are often better with treatment involving manual therapies such as osteopathy and carefully prescribed exercise (2).
Referred pain
Referred pain is where the body has a problem in one place, but your nervous system reports it to be somewhere else.  In the case of the shoulder, pain is commonly referred from the joints and other structures of the neck (6).  There are seven vertebrae in the neck, each numbered.  At the top is C1, and at the base of your neck is C7. As the diagram beside shows, each level of the spine and it's structures are capable of referring pain to various parts of the shoulder.  If this was the source of the pain then you would experience pain more by moving and turning your head than if you were to move the shoulder, and any treatment you may receive would be more likely to concentrate on the neck and upper back (2).
What should I do if I have pain in my shoulder?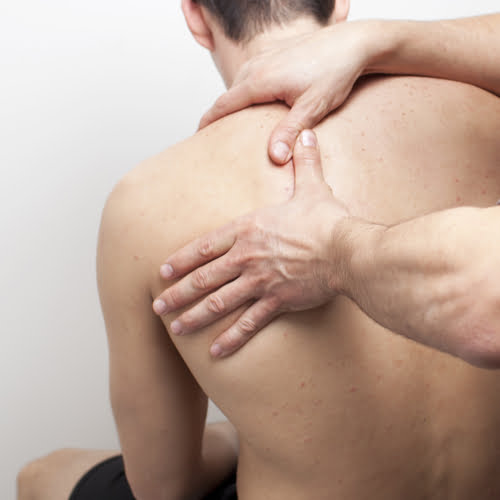 If the pain is very short-lived, or is soon after a bout of increased activity such as heavy DIY or a new exercise program then it may be just a reaction to a change in activity levels and will resolve itself naturally.  However, if it is sore for a few weeks and is getting in the way of work or leisure activities then you may need to seek some expert advice.  This is especially true if the shoulder and arm feel 'unstable' or difficult to move with a degree of ease. If you get it assessed by an osteopath or other medical professional soon after the pain becomes a problem then recovery is more likely to be rapid (5).  Also, the correct diagnosis is vital in developing an effective treatment plan.  As there are several possible reasons why a shoulder becomes dysfunctional the genesis of the problem must be discovered.  There is good evidence that manual techniques applied to the shoulder, upper back and neck (such as those provided by an osteopath), when coupled with effective exercise prescription can help get rid of shoulder pain (4).  If the pain is not responsive to these measures then medical imaging and injection or surgery may be indicated (6).
What is our experience as osteopaths?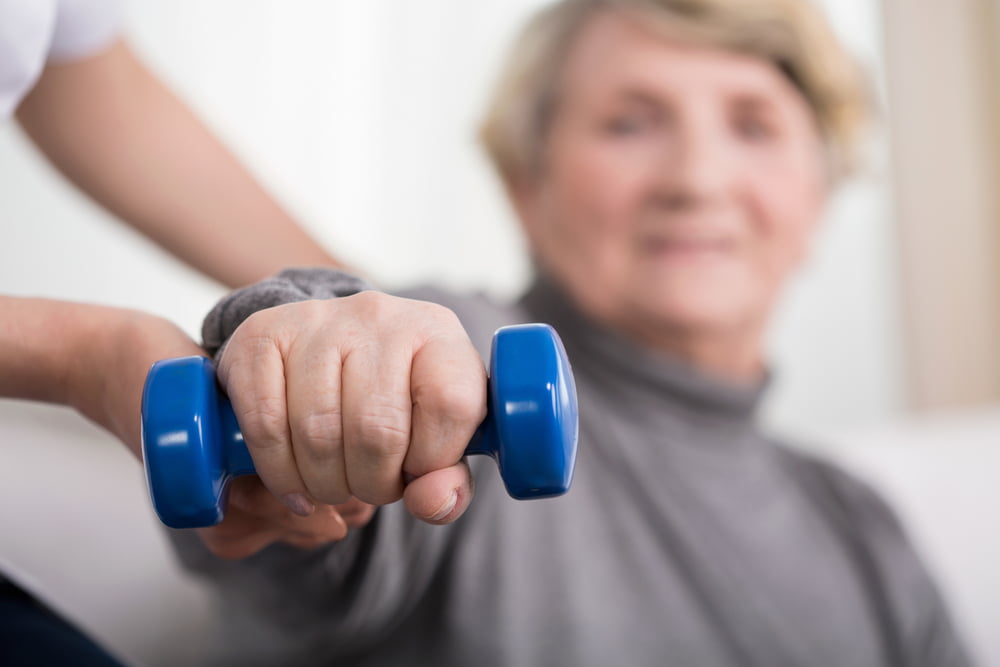 Every shoulder is different…..although there are several common traits that we find if we can identify then we can get rid of shoulder pain and improve a person's quality of life;
Is the pain they are suffering a new problem or an old one?  If it has been there for a while, or is a reoccurrence of an old injury then it will be necessary to find out when the original problem occurred and how they have adapted to the pain (have they started doing tasks differently to cope with the injury, and how has this affected them.
What are the main exacerbating factors, basically what makes it sore.  If it is a very specific action such as throwing then we can investigate the biomechanics of that action and improve them.  If it is a pain felt while or after working or driving we can investigate how their workstation or driving position may be affecting them.
Are there other areas of their body that may not be functioning well and be asking a lot of the shoulder, eventually leading to it becoming dysfunctional.  As mentioned above, the joints of the upper back and neck, as well as a whole host of muscles in the upper body need to combine to give the shoulder joint effective mobility while remaining strong and stable.  A thorough investigation of a person's biomechanics and their effect on how the shoulder moves is crucial to understanding why the shoulder is not functioning as it should.
Understanding all the elements listed above, then constructing a treatment plan of carefully chosen manual therapy techniques (massage, joint mobilisation) and home exercises is, in our opinion, the most effective way to restore good function and reduce pain in even the most stubborn of shoulder problems.
How can shoulder pain be prevented?
As mentioned before, shoulders are easily damaged and are prone to dysfunction.  To minimize the chances of injuring the shoulder you can follow these steps;
Do not over load the shoulder either with excessive strain or repetitive actions.  If you have to perform a lot of repetitive or prolonged tasks then take regular breaks, this especially true if you spend a lot of time working with your arms raised above your head.
Warm-up and cool down well when playing sports, especially if your sport involves throwing or explosive movements of the arm and shoulder.
Perform regular stretches which improve the range of motion not only in the shoulder but the upper back, neck and ribs as well.
If you start to have shoulder pain then get it medically assessed as soon as possible to improve long term outcomes.
Do you want to know what is causing your pain and if we can help?  Why not take advantage of our new patient assessment introductory offer to get you started towards a tailor made recovery plan for only £19.
Are you in a lot of pain and want to get better as soon as possible?  If so then why not book in for a new patient consultation, with treatment on the day, for £65.
We are also there to help you from home. Take a look at our suite of exercise resources and advice sheets which you can easily download and use from home.
References
1.  Levangie, P. and Norkin, C. (2005) Joint Structure and Function: A Comprehensive Analysis (4th ed). F. A. Davis, Philadelphia.
2. Carnes, M, & Vizniak, N. (2011). Conditions Manual. Professional Health Systems, Canada.
3. Norlander et al (1997).  Reduced mobility in the cervico-thoracic motion segment.  A risk factor for musculoskeletal neck-shoulder pain.  A two year prospective follow up study.  Scand J Rheum Med,  29:167-174.
4. Seffinger, M. and Hruby, R., 2007.  Evidence Based Manual Medicine – A Problem Based Approach.  Philadelphia, Elselvier.
5. Winters et al (1999).  Guidelines for Shoulder Complaints of the Dutch College of General Practitioners.  In – Seffinger, M. and Hruby, R., 2007.  Evidence Based Manual Medicine – A Problem Based Approach.  Philadelphia, Elselvier.
6.  Magee, D. Zachazewski, J. and Quillen, W., 2009. Pathology and Intervention in Musculoskeletal Rehabilitation, Missouri, Elselvier.